Welcome at pageloisirs.com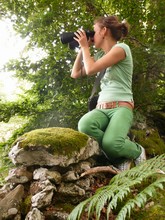 The stress is increasingly present in our daily life, living is busy and for this reason our spare time and holidays are important. Relax and enjoy yourselve, do the things you like, make some nice trips. But the spare time and holidays are always too short. Therefore if you want to prepare yourself well, Internet is used more and more for this reason.
This Internet site contains all kinds of information for your holiday and excursions or trips on the French country side in the Parc naturel régional du Haut-Languedoc (in the South of France). From camp-sites, bed & breakfasts and cottages to souvenir shops, museums and outdoor activities. Even if you are searching for a house or a companie for sale you can find it at Pageloisirs.com.

We hope that PageLoisirs.com contributes to the pleasure of the preparations of your holiday or maybe to the realisation of your dream!

The following information you will find at PageLoisirs:
Free advertising at PageLoisirs
Tourist Information offices
Culture, patrimony, museum, art
Visits and routes,
Recreation and relaxing,
Gastronomy, restaurants, table d'hôtes, brasserie
Activities the in nature, outdoor activities, horse-riding
Local products, Shops, souvenirs, craftsmen, old crafts industry, antiques
For sale : private, brokers, house, company, camp-site, hotel, chalet, farm, villa
Accommodations: camp-sites, rooms, bed and breakfast, b&b, chalets, cabins, cottages, fully equipped tents, hotels, inns, mobile home, camper-sites, group accomodations.
Advertisment for free
Would you like to advertise for free? That is possible right now. And very simple. What must you do? At first you create an account - by means of to register yourself. Afterwards you can directly create an advertisment for free. Changing your advertisement (personal details, tariffs, photo's and text) you do it yourself: just by 1 click. Please take a look at our advertisepage to see wich advertise possibility fits you. Beside a free advertisement you can also choose the advanced advertisement page or more luxe creating your personal WebPage('s)and lay-out. Several possibilities at Pageloisirs.com to promote your accomdatie, of selling activity on the Internet.
Tourist information offices
Also, Holiday-South-France.com gives you the addresses of several tourist information offices in the described areas.
To buy or sale a house or company
Real estate and private offers are present. On PageLoisirs you will find several offers of l' real estate agency's (brokers) and private individuals. Are you looking for a house or a entreprises to be sold? On the site Pageloisirs.com, you can also find houses and company's for sale (second houses, vacation houses, holiday houses, camp-sites, hotels).
Do you have any questions or comments?
For further questions, comments or suggestions about Pageloisisrs.com? Please contact us contactform
Pageloisirs.com is a product of ColoriQ © The information on the services, accommodations, activities and companies has been composed by the advertiser. ColoriQ is not responsible for the contents and correctness of the individual placed advertisements and of page('s) placed at Pageloisirs.com, nor responsibly for the impact of the use of the information.